Howdy from Oregon! (and from brian this time)
We have some new wines

to tell you about and of course lots of exciting news to share. 2012 was a perfect growing season that has resulted in some fantastic wines. We are incredibly fortunate (and busy) to have so many things happening around us. A little overwhelming at times, but our seatbelts are fastened as we head into spring and summer when things will get even busier.
Farm and Winery News
Our new barn is rapidly taking final form as the siding goes on – it received its first delivery of hay yesterday amidst the noise of hammers and saws. The old hay shed came down in January thanks to Duane van Dyke and his cousin Chuck; this is where the winery will go. The usable lumber has gone to a furniture builder in Portland in trade for returning a small portion of it as a new 'big table', replacing the plywood version I knocked together so many years ago. Clare triumphantly ushered our winery plans through the maze of design, engineering, contractors and the county to procure a building permit! There are a few small details to attend to, some cooperation from the weather and we will be ready to break ground on the winery building soon – very exciting and also scary – but what is life without a leap or two? Thanks to our founders for the head start.

And amongst all this we continue to usher along the 2013 wines, label the 2012s, care for the cows horses chickens cat goat dogs, slaughter pigs and take care of selling the last of the 2011s (thanks Tiffany!). Speaking of which we have had an amazing year of GREAT press, I won't go into all the details, Clare has organized it all on our website, but the wines were well received. Sorry if you missed them, we are sold out!
The 2012 Vintage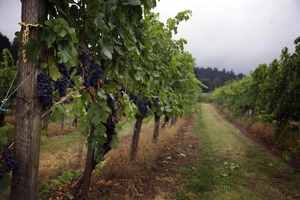 As many of you know I started my career in fermentation by studying and making beer. The goal of a brewer is to make a consistent product based on changing agricultural inputs. This is fine challenge and while I still drink beer often, I much prefer the challenges of winemaking, which is to optimize the product with each year's changing inputs. By working with others and my own learning, both in the winery and kitchen (wine glass within easy reach), my sensibility is that starting with good ingredients and letting them speak for themselves without too much tinkering or fussing results in the best end product, e.g. a steak grilled simply with salt and pepper. To that end the wines of 2012 are very different from those of the past couple vintages. The perfect growing season ripened the vineyards fully and cooperative weather allowed us to decide when to pick. The resulting wines are bursting with flavor, are balanced yet very approachable now and with a little bottle age they are becoming more defined and each maturing in their own way. They are delicious and a little dangerous, the bottles seem to go empty faster, but I swear they are still the same size.

One of the things that I love about making wine in Oregon is that every vintage is so different. I relish the challenge of making the best wine possible from grapes that vary widely in composition from year to year. I spend a great deal of time in the vineyards before harvest so that I know what is coming into the winery, and make subtle adjustments to the process to make the best wine possible.
My approach to making wine is like grilling that steak, the grapes are not augmented or subtracted from. To me, the beauty of wine is the variability that comes with each year. So in cooler years we end up with wines that clock in at 12% alcohol and are petite and beautiful and compliment a meal in their own way, and in warmer years we end up with wines at 14% that might speak for themselves at the table. Both are good and necessary for the sake of appreciation.
The Wines
2012 Willamette Valley Chardonnay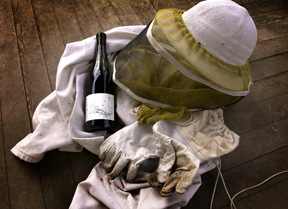 We made a little more this year with the addition of fruit from the Durant vineyard in the Dundee hills. The Durant family has been growing grapes for 30+ years, and the block we are working with is one of their older plantings. They are the nicest people and we are thrilled to be working with them and the fruit that they put so much effort into. The resulting wine blended beautifully with the same blocks of Bieze and Wirtz that made up last year's blend. Barrel fermented and aged in some new but mostly used French oak with native yeast and bottled in early September with all the pinot noir. Per usual, Clare has already consumed more than her fair share, but at 248 cases there is more to go around for the rest of you this year. I hope you enjoy this wine as much as we do.
248 cases bottled without filtration or fining or cold stabilization.
42 dollars
Label is one of Clare's active bee hives
2012 Willamette Valley Pinot noir
Again, I think our WV blend is a composite picture of the vintage. We are now making wine from 8 different vineyards all located in the northern Willamette, each represented in the blend to create a wine that becomes greater than the sum of its parts. Clare says it so good I should forget the vineyard designates and just make one blend. Delicious and would make her job easier. Also as in past years the WV blend has a significant whole cluster aspect to it, contributing to the spicy aromatics and additional texture from the tannins in the stems. Generous red fruits and a silky texture make for a delicious wine.
785 cases produced, unfined and unfiltered. 40 dollars per bottle.
Label Jackie and Florence, two of the cutest pigs to date, and tastiest.
2012 Pelos Sandberg Vineyard Pinot noir - Once again Don Sandberg delivered amazing fruit that has become a gorgeous wine. Equal parts clone 777 and Pommard from what we consider a warmer site means rich flavors and a very approachable wine as a youngster. The 2012 has all of the attributes we have come to know and love from this vineyard but in a slightly larger frame.
224 cases bottled unfined and unfiltered. 48 dollars.
Don's machete on the label, used for hedging the vines during the growing season.
2011 Syrah - Sadly, this is our last vintage of syrah from the White Hawk vineyard, and may be our best effort yet. A cooler growing season resulted in late October and early November picking. This long maturation of the fruit has produced a wine that is exceptionally refined. The juicy aromatics belie the elegance and power of the palate - remember that perfectly grilled steak? This is the wine for that.
166 cases produced, unfined and unfiltered. 48 dollars
Label is, as always, knife and fork framed by a dinner plate.
These youthful wines really shine on day two after opening. I would expect this to be the case for the next year or so. I attribute this to the gentle and careful handling of the wine in the cellar. I believe that wine has a vitality that can be consumed in the winery by unnecessary movements or treatments (like filtering). A less is more concept, that manifests in wines that evolve gracefully in your cellar, in the bottle after opening and in your glass throughout a meal.

The first wines of 2013 will be bottled in early April. Our Laughing Pig Rose will return with a few more cases than last year and our inaugural offering of our Wirtz Garden – a field blend of aromatic white varieties from the Wirtz Vineyard- Pinot gris, Gewürztraminer, Riesling and a small amount of Sylvaner. We are really excited about this charming blend and think it will make spring and summer all the better. Both will be available shortly after bottling and we will be sure to let you know.

Thank you to all of you who continue to buy our wines and enjoy and share them with friends and family. We wouldn't be here without you. Our continued success is because of you. We will be in Atlanta end of March and Clare will continue on to Washington DC for the Willamette Valley Winery Association tasting event April 2nd. We look forward to seeing some of you there.
Locally we will be participating in the Oregon Chardonnay Symposium March 8 and the Yamhill Carlton AVA tasting this April 26. Summer time will find us pouring Rose at Patton Valley's Think Pink and Outstanding in the Field in July.

To celebrate the release of the spring wines we are excited to be hosting three events mid-March we hope to see you at one (or more!) of them:

March 15, 7pm $70 – big table farm at Simpatica in Portland
March 18, 6pm $125

–

big table farm at Matt's in the market in Seattle
March 21 (more info coming soon) – big table farm teams up with David Padberg @ Good Keuken in PDX- 4 bites 4 wines!

Cheers! And thanks again, Brian and Clare.

Please let us know if you are in the area, we would love to share our wines with you. Also we will be open Memorial day weekend.

From our table to yours, Cheers! Brian and Clare