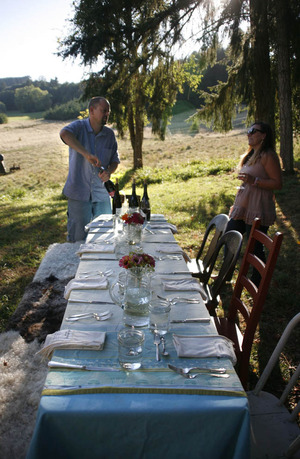 We hope this finds you well and enjoying the last days of summer. We have had a fantastic summer here with lots of great things happening. The weather has been amazing, and we are anticipating harvest 2013 with great optimism. Thanks to all of you who have made the trek out our dusty roads to try our wines; it is always great to meet new people and see old friends alike. In July we participated as a featured winery in the International Pinot Noir Celebration, a three day event in McMinnville and had a great time. We met a lot of great folks, drank and ate amazing wine and food and we look forward to participating in future years. I would highly recommend attendance. Timely response to emails and phone messages has never been my long suit, and Clare is on par or worse. To that end, Tiffany Stevens has joined us to help with the details of keeping all the wheels on the wagon. Some of you have already had the chance to meet her, we are really happy she has the fortitude to put up with us.
Farm news:
We continue to raise animals, we had three calves born this spring and just bought a bull, Charlie, to service the cows this year. Two steers and an open cow were slaughtered last week, and we are eagerly awaiting the first taste of these efforts. This year's pigs are a new breed for us, American guinea hog, they are about half the size of most pigs, but do well on pasture and kitchen scraps and require much less grain, helping us move further in the direction of pasture based produce. For the first time we have a predator problem with the laying hens, so sadly our egg supply has dwindled sharply. The chickens were ranging so well on their own we became lax about moving their "bus" and somebody figured this out. We have resumed regular movement but more efforts might be needed. The garden is booming thanks to the back end output of Clare's horses. I still maintain that's all they are good for.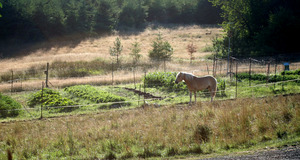 Vineyards: good news and bad news. The good news is that our relationship with the owners of the Wirtz vineyard continues to evolve and we are now leasing the whole 12 acres. This means we are responsible for the farming and that 2013 will see the addition of an aromatic white wine to our portfolio, all exciting stuff! The bad news is Resonance vineyard was recently purchased by Burgundy producer Maison Louis Jadot who will use all of the fruit for their own production. Sadly 2012 will be our last vintage working with fruit from this wonderful site. However, Kevin and Carla Chambers have purchased another property and are in the planning stages of planting vineyard so we look forward to working with them again in the future.
The most amazing aspect of summer 2013 is the establishment of the Founders Circle. Thank you to all who have contributed to our "barn raising"; it has been a stunning and humbling experience to know that so many of you believe in what we are doing and want to be a part of it. I begin blending this coming week to prepare for bottling so there is still some time to count yourself in. Please do so quickly so I know how many magnums to bottle next week. Construction of the barn will commence shortly, and plans for the winery are complete. Preparations for construction next spring will happen as soon as the barn is up.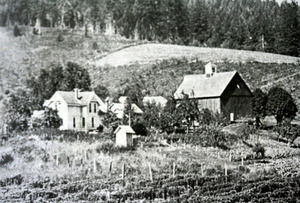 The wines available for fall 2013!
2012 Pinot Gris – Wirtz Vineyard -
Made in the same manner as past years, fermented on the skins briefly and then finished in barrel to dryness and malolactic complete, bottled without fining or filtration. 2012 was a beautiful growing season and has produced some gorgeous wines, the first preview of this was our Laughing Pig Rose which exhibited lots of fruit, richness and acidity with exceptional balance. The Pinot Gris is also typical of the vintage and displays the same great ripeness, coating mouthfeel and wonderful balance. As in past vintages the tannins are firm and present and the acidity makes this wine politely ask to be pared with seafood of all kinds. To be bottled September 12 to approximately 115 cases, label Thistle from BTF pasture, 32 dollars
2011 Vintage
was one of the coolest springs and summers in memory, however September was also one of the warmest and driest. October brought us some rain but mostly dry and warm days to ripen the fruit beautifully. All of our vineyards were picked at the very end of October, we could hear trick or treaters on Halloween reveling in the streets of Amity as we sorted and processed the just picked fruit. The cool summer with a warm finish has produced wines with fantastic ripeness of fruit and tannin and yet vibrant acidity throughout. When we open bottles to taste with folks we often find the wines to be even better the next day and I now recommend decanting before drinking while still young. My feeling is that while these wines are showing well now they will be enjoyable for some time into the future. What follows are four more vineyard designates arranged from coolest to warmest in terms of microclimate. Since they were all picked within the same time window I find their differences due to site fascinating and compelling. They are peers, each with their own strengths and beauty. All have been bottled without fining or filtration. All have been reviewed favorably and we are proud to offer them to you now.
2011 Riesling – Brooks Estate Vineyard -
Again, made in the same manner as 2010, barrel fermented to dryness with native yeasts and completed malolactic. We recently opened a 2010 and I was impressed with the weight the wine had put on. Of all the wines I make, the Riesling is the one I am most interested in its progression as it ages. I have tried several produced in the 70's in an off dry style and am curious as to how mine will compare in equal time. Regardless, the 2011 is very similar to the 2010 in structure, however aromatically it presents a bit more spice and lemon with great minerality and toast on the palate. It has already proven to be wonderful to sip on with snacks on a sunny Sunday afternoon. 91 cases produced, label Porcini from Big Table Farm, 28 dollars
2011 Cattrall Brothers Vineyard Pinot noir –
this is the highest elevation vineyard that we buy fruit from and consequently the coolest site. This is evident in the resulting wine's petite stature and yet it delivers beautiful aromatics and rich fruit on the palate that persists through the finish. Its tannins are firm and present. Fermented with native yeasts and whole cluster give great character to the wine with only 11.9% alcohol. All the wines from 2011 have low alcohol, but this is noteworthy given everything else that is presented in the wine. I am always learning and am sometimes surprised by what happens when wines are gently nudged and allowed to express what's there, as opposed to imposing my will over them. 143 cases produced, label 1941 Ford dump truck, 45 dollars
2011 Wirtz Vineyard Pinot noir -
Planted in the early 70's by the Wirtz family, this vineyard is old by Oregon standards, as are the others. Older vineyards tend to produce wines that have greater depth and character in ways that are perceptible but indescribable. Their deep roots allow them to produce consistent wines, reaching water in dry years and uninterested in the first rains in a wet year. They naturally produce less fruit and so are balanced without excessive manipulation. We feel honored to be trusted with the fruit from such pieces of history. I was still wearing diapers as this vineyard went into the ground. The fruit produces wine with spicy aromatics even without the inclusion of stems that persist throughout the palate to the finish. Balance and depth of earth, fruit and acidity are hallmarks of the Wirtz vineyard.
119 cases produced, label Walnuts from the vineyard, 45 dollars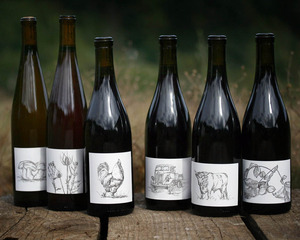 2011 Sunnyside Vineyard Pinot noir –
This is the first year we have worked with the fruit from this vineyard and I hope to continue for many years into the future. First off, owners Lucy and Tom couldn't be any sweeter or dedicated to growing the best fruit possible. They are a pleasure to work with. Second, their vineyard has produced a wine that is complex, layered with all kinds of flavors and saturated with fruit without being overpowering in any way. I believe that wine should be an accompaniment to food and think that this wine is a perfect partner for just about anything, save something too spicy.
143 cases produced, label Rooster from big table farm, 45 dollars
2011 Resonance Vineyard Pinot noir –
This is the warmest site we buy fruit from and in a cool vintage it is very apparent, it is slightly darker and its stature is greater, making the wine almost atypical for the vintage. Rich, ripe fruit and dark notes bounce off of each other throughout the wine and firm tannins hold your attention. We have found year in and year out, this wine, while perfectly acceptable now if given the chance to mature will yield a more clear picture of what it wants to be. For some reason unknown to me the 2011 exhibits more of this initial opaqueness than past vintages. I believe with a little more time this wine will be truly exceptional, however we have held it for a year in barrel and a year in bottle and now need to turn it over to you, so we can continue to make the next vintage. 287 cases produced, label Curly the bull, 48 dollars
Thank you again to all for you support and continuing to buy wine. We wouldn't be here without you.
From our table to yours, cheers! Brian and Clare