It's officially fall, the light is low in the sky, it has started raining in earnest and the wines are safely in barrel!
2014 was a very special vintage at Big Table Farm it was truly magical to make the wines here at the farm.
Thank you again to our community of builders, founders, friends and most importantly those of you who continue to purchase and enjoy the wine we make. The winery was complete enough to be usable for harvest which was no small feat. Now is time for buttoning up the last details and putting everything right before the end of the year.
In the mean time a couple pieces of news worth mentioning and some invites.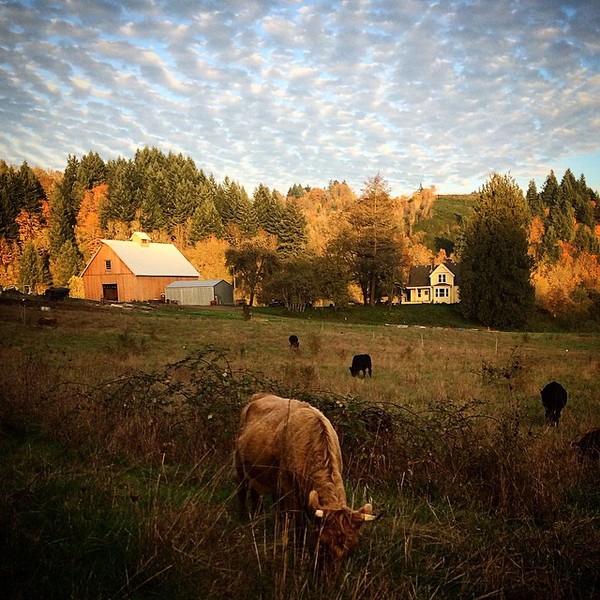 Our doors will be open as part of the annual Thanksgiving weekend however due to a 'clareical' error we are not on the WVWA tasting... but rest assured we will be here pouring fall wines (what's left of them) Nov 28,29 and 30th from 11 - 4pm and we'd love to see you.
We also received a great honor From Wine and Spirits - Big Table Farm is in the top 100 wineries of the world!
To our delight the scores and accolades keep rolling in - keep up the great work Brian.

With the winery here at the farm things are all falling into place and we are still in awe! For those of you that have yet to place your fall orders please don't delay as we only have a hand full of cases of the Cattrall vineyard pinot left and the others will be quick behind it with the thanks giving weekend fast approaching. Also If any of you missed the edelzwicker with your fall order I would make sure you pick up a few bottles it's drinking really well. It's fattened up since summer and this dry white has taken on a beautiful richness. I think it's the perfect wine to bring to dinner or a holiday party.
Cheers! Happy Fall and warm wishes for the holidays - Clare and Brian
www.bigtablefarm.com
ps - for those of you on the west coast and texas - I think this is your last chance to ship ground...