In case you didn't get my annual release letter in your in-box here's a copy below for you regular blog readers some of the farm news is redundant but the wines listed below are our new release wines
....
We hope you are all well and have had a wonderful summer full of family, friends and great food and wine! As summer winds down and we look forward to harvest, we are excited to have a few more 2010's to share as well as news of what's happening around the farm.

First, we would like thank all of you who buy our wine. We consider you to be partners in big table farm, so thank you for your continued support and sharing our enthusiasm. We could not do this with out you. You are part of our story and our success.

The wines have continued to enjoy great reviews and we've had amazing response when we traveled from coast to coast this spring. Beside the fact the many of you keep coming back for more, Tanzer, Pinotfile and Wine and Spirits among others have all been consistently generous with the scores. On the subject of scores the thing I'm most proud of in this particular arena is that they are consistently good over all *of Brian's wines. Making balanced wines is a goal for Brian and it is a thread that carries through to each individual wine. As I have heard him say so many times, balance is beautiful.

Speaking of balance ... I'm not always sure we have it around the farm in the summer, for as busy as each day seems to be, but in the end it seems there is lots of good along with all the work. A big change is that the farm house is now yellow! Quite frankly this is something I have wanted since the day I saw this house on MLS. Truth be told I took the real-estate listing photos and photoshopped them yellow, and now here it is in real life 6 years later. If only the photoshopping of my waistline would work as well!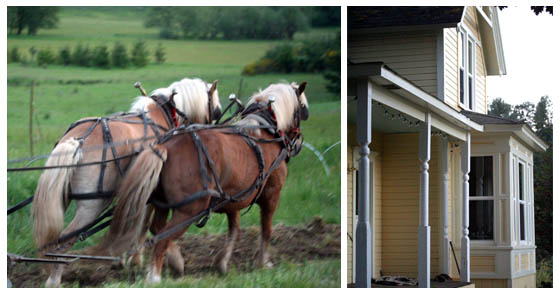 We had 3 beautiful healthy calves this spring and on the flip side we slaughtered Ronnie and Haley just after they had fattened on sweet early summer grass. Our diligence in pasture management has resulted in some tasty meat. My draft horse habit continues to bring me joy and give Brian something to grouse about. I keep hoping he notices how useful they are. This spring they worked up our garden with the plow and then we tilled it with a new 'old' piece of equipment from my friend Duane's farm. There are new posts in the old barn, thanks to my ever handy hubs, making room for the 20 tones of hay for winter and the fire wood is stacked and ready.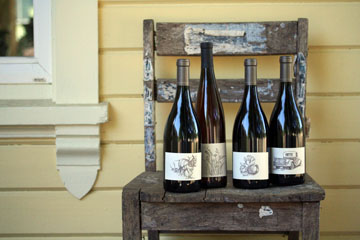 The Wines!

2011 Pinot Gris Wirtz vineyard
– It's here again this year - Since last year's release of this unusual wine, to our delight 'orange wines' have enjoyed some attention. The 10 was a successful 'experiment' and I'll have to say 11 is every bit of ten and more... As in ten we took a traditionally white grape and left it on it's skins to add color and texture to the wine, and then pressed and finished fermenting to dryness in neutral french oak barrels to soften and round out the wine.
The result is a very full-bodied luscious wine with lots of fruit and structure but the freshness of a white wine. It is an amazing companion to seafood. Bone dry, malolactic complete and bottled unfined and unfiltered. 110 cases, 28 dollars
2010 Pinot Noir – Cattrall Brothers Vineyard –
The oldest certified organic vineyard in Oregon – planted in the early 70's. This vineyard continues to bring us very complex wines with tons of spice and great fruit. This vintage had lots of deep earth notes and took it's time to fully develop we held this wine back to give it more time with great results. A rustic and forward wine that is still continuing to evolve, roasted coffee and raspberry dominate the palate. 118 cases bottled - 45 dollars
2010 Pinot Noir – Wirtz Vineyard –
This is a wine we are very excited to offer for the first time, this is the same vineyard our gris comes from. These vines are on average about 40 yrs old - this is a multi generational site in the northern part of the Willamette Valley. One of our favorites of the vintage, very complex -- spicy, fruity, cola and perfectly balanced. We only made 90 cases of this wine. - 45 dollars
NV - Work Horse Red -
This wine is a blend of Pinot Noir and Syrah. The purists in the group may have just sucked all the air out of the room but before you stop reading - remember you have grown to trust Brian's restraint and balance. This wine is 10% of our White Hawk Syrah and 90% Resonance Pinot Noir and was fermented with some whole clusters, which contributes to it's rich nose and spicy character. Having nothing to do with the artwork or name on the bottle this is a personal favorite with a rich peppery piece of big table farm steak. This wine is full bodied yet still has the elegance of pinot. This will not be a wine we make every year so don't count on it being around for long. 140 cases bottled - 48 dollars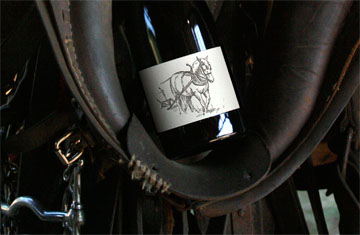 A note on the labels - it's official we are still crazy. We are still doing original art for each wine every year and putting each hand letter pressed label on one bottle at a time - there is no machine that can do this work, it's all done by brian and I and a small crew of friends and helpers. This year's art features yet another old truck from the Cattrall vineyard - those guys do like their vintage stuff. The Pinot Noir from Wirtz features hazelnuts from the neighboring field - a nod to the region and the Wirtz pinot gris illustrates legumes from the big table farm fields. Last but not least my draft horse Hummer graces the Work Horse Red.

Our deep thanks to you for all your enthusiasm for our wines and farm projects, we look forward to hearing from you! – cheers! Clare and Brian