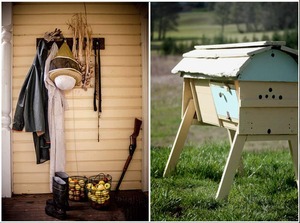 Greetings to all, we hope this finds you well on the only day of the year that is an imperative command, March forth!
We are pleased to have our first Pinot noirs from 2011 to share as well as chardonnay, and of course syrah. The 2011 growing season in Oregon was marked by being second only to 2010 in coolest in recent memory. However, September was warm and dryer than normal and helped ripen the fruit in a way that has given us richly complex wines with great tannins. Early October rains were countered by three weeks of dry and we picked at the very last minute, processing late into the evening on Halloween. We consider ourselves lucky to be working with older vineyards and great farmers – I have been bullish on 2011 wines since before they were even picked. They are almost identical to the 2010's in standard metrics, due to almost identical amounts of "degree growing days" measure of heat, sunshine etc, but the warm September has provided another layer of ripeness/complexity that will be rewarding as the wines continue to develop in the years to come. This cool growing season with a warm finish has created wines with an exciting combination of crispness and low alcohol, yet still have ripe, dark fruit and good tannins.
We are excited to have these wines to offer!
We are finally in a position to hold wines for a little longer before releasing them. Bottled early last September they have moved beyond the awkwardness of being newly minted and are beginning to show their true character.
The 2011's already released, the LPR (laughing pig rose) last spring and Pinot Gris last fall were well received and quickly sold out. We hope and anticipate for equal response to the rest of our vintage.
We added two vineyards in 2011 – Bieze, from which we got chardonnay and Pinot noir, and Sunnyside, planted in 1970 and farmed meticulously verging on obsessive by Lucy Winarski and Tom Owen since 1985. This will be included in our fall release, along with Wirtz, Resonance, Cattrall Pinot noir and Brooks Estate Riesling.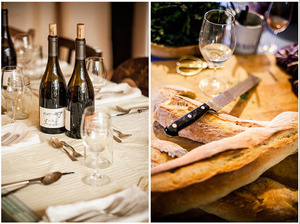 The Wines
Chardonnay!
Having worked with chardonnay extensively at Neyers Vineyards and Marcassin I am excited to finally be able to offer our own. Making chardonnay is deceptively simple – squeeze grapes, put juice in barrel, ferment, age and then put wine in bottle. And yet seemingly small adjustments make a world of difference...
For a variety of reasons chardonnay is not widely planted in Oregon, but finally we have managed to find some. 60% of the fruit comes from the Bieze vineyard, which shares a fence line with the eponymous seven springs vineyard. It is a recent planting (done beautifully) and this is it's first fruiting year- we look forward to many more. The balance of the blend comes from the Wirtz vineyard which dates back to the early 70's and the chardonnay block is a testament to the difficult early days of chardonnay in Oregon. Someone attempted to replace the chardonnay by grafting over to Pinot noir. Not all of the grafts took so about 30% of the block is still chardonnay, but difficult to pick since the plants are scattered throughout the one acre block. Owners Ben Hawes and Brandon Lockhart obliged my desire to make chardonnay and personally picked/lugged the ¾ of a ton of fruit that was there.
Barrel fermented in mixed aged French oak (no new oak) to produce a lively wine of voluminous bouquet, wonderful palate and crisp finish – very satisfying. Clare has already consumed more than her fair share – if you want some be quick!
136 cases – unfined, unfiltered and not cold stabilized – 42 per bottle
Adorned with bees courtesy of Clare and her hives
2011 Willamette valley Pinot noir – as I am sure some of you have heard me say I am always amazed that the sum total is greater than the parts when blending wine. This year's Willamette valley blend is no exception – it is a combination of new, one used and neutral barrels from all our Pinot noir sites. It includes aspects of whole cluster, balanced fruit and texture of sur lie aging. It is a perfect synopsis of the vintage from our point of view, elegance and complexity framed by balance and charm. As always, we make what we love to eat and drink – this wine is no exception and we hope it will be a frequent companion at your table as well. 519 cases, unfined and unfiltered 38 per bottle
Pig tails of Petunia and Rose, maybe some of the best looking pigs to date!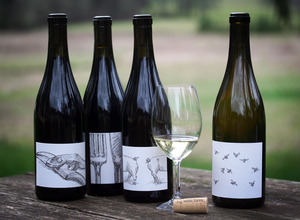 2011 Pelos Sandberg Pinot noir -
Thank you to Don and Johanna, Lynne and Perry for continuing to work with us. We buy two acres of Pinot noir from their immaculately farmed vineyard. Don is easy to find during the growing season – he is in the vineyard. When I show up to walk my blocks he is always there, we share notes, thoughts and comparisons to previous vintages. I was struck and excited by the darkness of the juice and the ripeness of the seeds as we walked the rows in the fall of 2011. The southwestern exposure, perfect elevation and mixture of soil types create a wine that is luscious from the beginning. Dark fruits and cola dominate aromatics and palate, rich mouth feel and ripe tannins make this wine delicious in its youth. We hope you enjoy this bottling as much as our inaugural efforts from this great site.
192 cases, 45 per bottle
Don's clippers artfully drawn by Clare
2010 syrah – once again, as much as we love pinot, it is wonderful to work with syrah. They couldn't be more different and yet perfectly complimentary. An evening of pinot framed by chardonnay and syrah is dreamy when paired with appropriate seasonal foods. The cooler growing season in California has created a wine that has elegance yet also the power of syrah that we know and love. It seems to have all components in perfect proportions. Minimal handling in the cellar have left this wine fresh and vibrant, we will cherish its presence on the table for years to come.
194 cases produced, unfined and unfiltered, 48 per bottle
And of course, flatware on the label
The wines of 2012 are also showing promise and we will bottle a small amount of LPR at the end of march, we will most certainly let you know when it is ready.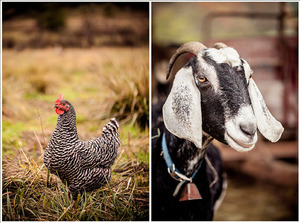 Farm news
Our pastures continue to improve as we do our best to manage them with our nine (!) cows, Clare's two stinks (horses) and the chickens, and of course goateo who has the run of the place. Hopefully, four of our cows are pregnant and will calve in June and the two steers will be ready for harvest late July. Clare continues to learn the ways of bees and the advance greeting team of Levi and Clementine are slowly (slowly) learning some manners (Levi now jumps into your car instead of on it). Otherwise, holding steady.
Please let us know if you are in the area, we would love to share our wines with you. Also we will be open Memorial day weekend. And we have been invited to participate in the International Pinot Celebration in July - tickets are available on there web site to this great midsummer event.
From our table to yours, Cheers! Brian and Clare